Knob & Tube Wiring
Many homes build prior to 1950 have a type ofelectrical wiring known as "knob and tube." Thiswiring consists of porcelain insulating tubes thatcontain wires – whereas modern wiring is usually runthrough plastic or PVC tubes. Knobs are used toclamp the wire to structural members, while tubes areplaced in holes in the structural members to preventthe wire from chaffing against the woodwork. Thiswiring consists of parallel hot (black) and neutral(white) wires, separated by knobs (or insulators) andceramic tubes.
This type of wiring is usually associated with older installations consisting of 60 amp service (new homes are supplied with a minimum of 100 amps) and the wire is fused with 15 amps. With the advent of newer stereo equipment, computers and appliances, fuses will blow and many uninformed owners replace the fuses with 20 or 30 amps to prevent this from occurring.
Given that the wire was not intended to carry this additional current, the insulation becomes brittle exposing more wiring, or worse, overheating to the point of causing fires.
Knob and tube wiring is considered risky mainly because:
a) There is no ground wire thus, making it more hazardous than modern wiring. In areas of thehome where outlets come in contact with water, such as kitchens, bathrooms, basements and outdoors, there is a greater risk of shock.
b) The aging wires are highly susceptible to wearing and exposure thus, presenting a serious safety hazard.
c) The unintentional contact of the hot and neutral wires may potentially cause an electrical fire.
d) The lack of circuit breakers can increase fire risk.
Proper maintenance is necessary. Where wire insulation is brittle or cracked, it should be replaced. As long as wires are properly protected, not exposed, are pliable and joints are not broken, this type of wiring may be safe. Knob and tube wiring becomes a problem when it is abused. Much of this wiring is concealed behind walls, ceilings and insulation where its condition cannot be completely evaluated.
In addition to the wiring being deteriorated, these wires are connected by being soldered together and wrapped in electrical tape. After time, this tape either falls off or deteriorates. Closely inspecting basement joists or attic rafters may help detect problems. If the wiring is not easily seen or accessible, the electrical outlets can be checked and if they have two prong outlets to plug into, this probably means that knob and tube wiring is present. Also, older homes with this type of wiring have fewer receptacles than modern houses.
A buyer may be required to replace all exposed knob and tube wiring with approved permanent wiring material before an insurance company will provide homeowners insurance coverage. Some insurance companies are flatly refusing to insure homes with this wiring. Obviously, if a buyer cannot obtain insurance, a Lender will not forward the mortgage proceeds needed to close.
Further, besides being able to obtain insurance, it is becoming increasingly more questionable about whether a policy will be renewed or not.
Sellers should consider doing some rewiring before they list their homes for sale in order to make their homes more marketable. In some cases, insurance companies require homeowners to have insurance specifically for knob and tube wiring, therefore, this may increase their premiums.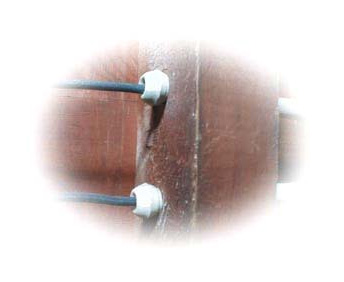 60 Amp Service:
60 amp service in itself does not create an unsafe or hazardous situation. It becomes unsafe only when the homeowner places more demand on the existing service. Typically, 60 amp panels become a fire and safety concern when occupants use larger fuses than the ones specified. The installation of a major electrical appliance in addition to an electric stove increases the risk of fire. Such items as a central air conditioner, electric clothes dryer, whirlpool path or hot tub and the addition of numerous small appliances such as microwave ovens, computers, stereo equipment and the like will contribute to a significant draw on the system.


Any homeowner with knob and tube wiring, or the potential buyer of such a house, should hire an electrician to give the system a complete check. If an inspectionuncovers problems, you should make the necessary repairs for personal safety as well as insurance concerns.