Home Staging = More $$$ in your pocket!
$1000 Fee for my consultation

Complimentary as an Added Value Service for my clients
We live in a home much differently than we sell a home.
Simply put... Staging Sells Homes Quicker and for more money every time! Buyers are easily distracted and put off by "STUFF" & "CLUTTER" and have a difficult time envisioning their furniture and decor in a home that has all the personality of the seller. Minimizing personal items, maximizes space and creates a more universal appeal and invites the potential Buyer to envision themselves and their Family living there.
Did you know?
*Home Buyers make a decision within 5 to 7 seconds of walking in the front door, so there's no room for error.*
Did you know?
*According to the National Association of Realtors, furnished homes sell 68% faster than vacant homes. That 68% advantage is lost by leaving a home unfurnished.*
Even a small amount of staging can make it more welcoming to potential buyers and help them feel how it will fit their lifestyle. Statistics prove that staged homes sell faster and for a higher price than non-staged homes. And it costs less than a price reduction- three great reasons to have your home staged by and accredited staging professional.
Look at these before and afters below:
Make a small tight, cluttered boring family room look OPEN, AIRY & SPECTACULAR... many times using homeowner's existing furniture and accessories. Turn a tight messy unwelcoming cluttered Foyer to a Elegant open welcoming space.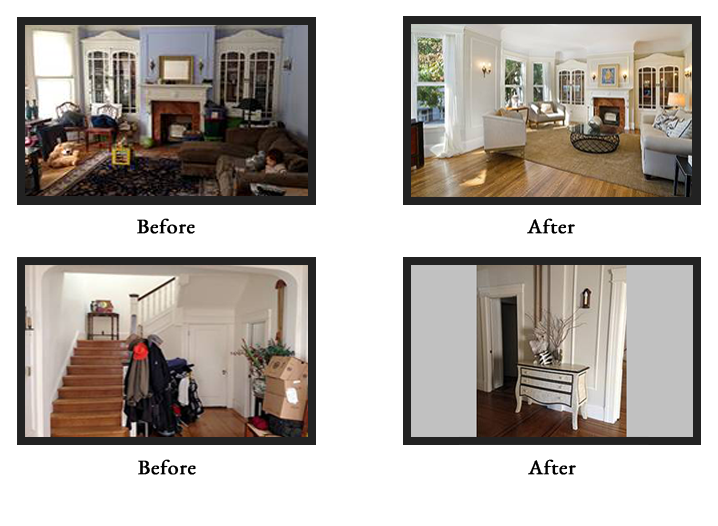 You Can See The Difference
Let My Years of Experience and Knowledge with proven Results, help you gain the advantage over your competition, next time you are Ready TO SELL.
Call Me Today And Let's Get Started.
Marleane Maxwell
604-530-4141